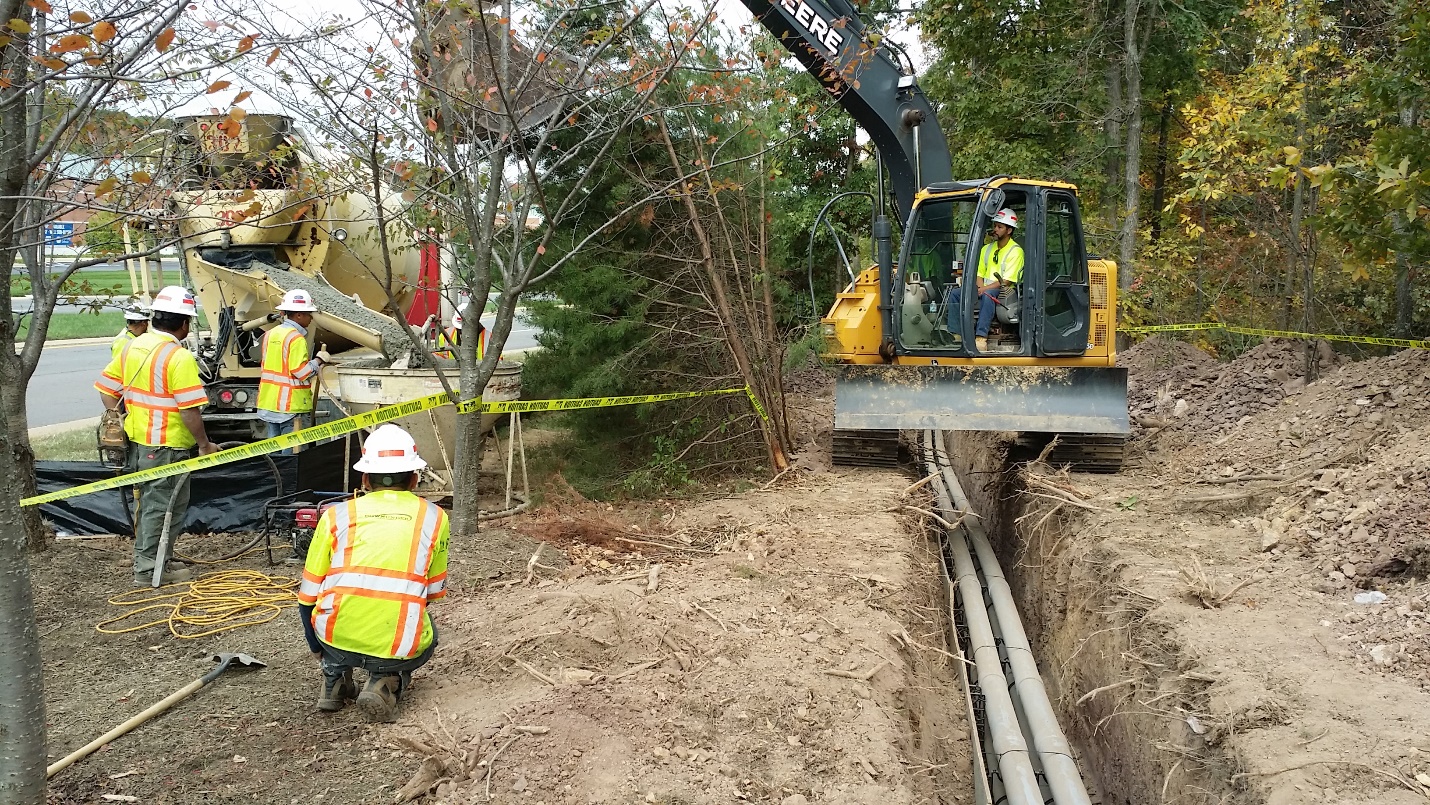 Down Under Construction (DUC), a Hylan Company, stands as a prominent leader in the market for trenchless and trench-based construction and installation across various technologies. Established in 1993, DUC excels in serving diverse sectors, including federal government, land developers, utilities, and large electrical contractors, from its headquarters in Sterling, VA. We are pioneers in the Mid-Atlantic region's directional drilling and underground construction industry, and as trenchless installations became more popular beyond the telecommunications sector, DUC's growth has mirrored the rising demand for our extensive services.
Down Under Construction prides itself in providing detailed, precise construction solutions, keeping in mind the unique requirements of different infrastructures. Our range of services, backed by OSHA compliant personnel and equipment, is diverse and well-tailored to specific needs, whether it's in perimeter security barricades or power duct bank systems.
We provide a list of our key services below, but we are more than happy to discuss your specific project needs to provide a custom solution.
Government Services
We have fulfilled numerous contracts for all levels of government, including secure communications and autonomous operations.
Construction
We provide a wide array of construction services, including Duct Banks, Site Work, Rural and Dense Urban Underground Civil, and many more.
Splicing
Our services encompass OTDR and Reel Testing, Coax and Waveguide, Facility Cable Networks, and others.
Design Engineering
We offer design services for twisted pair, coaxial, fiber optic, and copper cable networks.
Warehousing/Logistics
Our management, procurement, warehousing, and outsourced labor services support clients across the United States.
DAS Construction
We have vast experience in offering full end-to-end indoor and outdoor DAS solutions.
KAREN RUTHERFORD
Senior Vice President & General Manager
Karen Rutherford has over 25 years of experience in the construction industry. As Senior Vice President and General Manager of HYLAN, Karen is responsible for overseeing the project management operations from the bidding process to the project close-out phases. In addition to these responsibilities, she manages all aspects of job cost reporting and analysis. Karen also takes on roles outside of her normal job duties and often assists other departments with process improvements for job cost reporting.
Prior to joining HYLAN, Karen worked for OSP Consultants as Supervisor of Field Office Integration for a $75 Million Dollar turnkey project.
SCOTT WILLIAMS
Vice President & Chief Estimator
Scott Williams is an industry veteran that manages long-term projects and develops new clientele. Scott works closely with HYLAN's clients to ensure that all contractual deliverables and obligations are met by HYLAN. His responsibilities also include preparing all documentation and backup for invoicing, as well as tracking HYLAN's projects from a job-costing perspective.
Prior to joining HYLAN, Mr. Williams spent five years with OSP Consultants where he reported directly to the ownership and served as a job-costing manager for the construction division. As a project manager he was responsible for all WMATA projects and currently heads up HYLAN's WMATA division. At OSP his duties included job costing, invoicing, accounts receivable work, and monthly closings on budget-to-actual performance. Mr. Williams is WMATA certified, CSX certified, and MTA Certified and has extensive knowledge of the tunnel systems of Washington, Baltimore, and Atlanta. He received his BBA in Management from James Madison University.
KEVIN COMFORT
Director of Operations
Kevin Comfort has over 30 years of experience in the fiber engineering, design, and construction industry. He began his career in Cambridge, England building the first triple play fiber network, phone, internet, and cable TV in the East Anglia Region. Kevin is an expert in building out fiber networks, specifically in all 5 Boroughs of New York City and New Jersey. Prior to joining HYLAN, Kevin has worked for one of the nation's largest Telecom infrastructure companies in the United States. He was responsible for their first fiber build in New York City and then managed and designed several other fiber builds in several cities over multiple states. He enjoys deep sea fishing and is a lifelong fan of the New England Patriots.
DAN MICHELITCH
Accountant
Dan Mitchelitch has over 14 years of construction accounting experience with Down Under Construction since he received his B.S. in Accounting from Towson University.
In this role he is responsible for the Accounting function of Down Under Construction, including cash, payroll, payables, human resources and the maintenance of accounting software.
LILESH KALE
SENIOR ESTIMATOR & PROJECT MANAGER
Lilesh Kale, majored in Civil Engineering, has been with Down Under Construction for 11 years serving senior estimator and project manager and brings over 16 years of experience in the construction industry. Lilesh's project responsibilities include but not limited to coordination and overall development of the entire project from pre-construction services to closeout documents, providing budgets, estimating with On Screen Take Off, qualifying bids, proposals, procurement of subcontractors and materials, project scheduling, purchase orders, direct liaison with clients, submittal processing, monitor and coordinate work performed by the field staff and subcontractors ensuring that project operations are in compliance with design specifications and maintain project schedule and budget, change orders, invoicing and cost tracking.
Hylan is happy to discuss new projects and partnerships.