Welcome back to another edition of our favorite series: Get to Know Our Hylan Family! To kick off the series in a new year, we will begin with Western Utility and speak with Foreman Jose Vallejo. When asked to recommend an employee for the monthly spotlight, Rob Schaffer, General Manager of Western Utility had the following to say: "Jose has a fantastic attitude and brings a positive energy to the job every day. Jose is very experienced in most of our types of work, moves seamlessly from job to job, and is very good about communicating expectations and project goals with everyone on his crew.  Jose is a valued member of the Western Utility (Hylan) family and we look forward to many years of future success." 
What led you to your position at Western Utility? 
I wasn't content with my previous job, so I started looking for a more rewarding career with opportunity for growth. On my search, I discovered an opening with Western Utility and applied. I was lucky enough to get the job, and now here I am!
How long have you been with the company? 
Almost 10 years.
What does your role as Foreman entail at Western Utility?
As a Foreman, my responsibilities include directional bore locating,  open cut trenching , and equipment operator, occasionally working with equipment such as the mini excavator.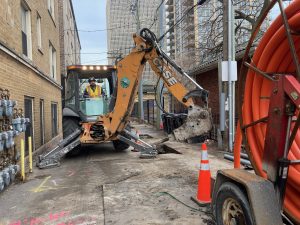 What do you most enjoy about working for Western Utility, and Hylan as a whole? 
I love that every day is different. Every day I have to navigate a new challenge, which keeps the days fresh. It is a fun and fast paced environment, and I really enjoy it.
What project and/or accomplishment are you most proud of with your work at Western Utility?
I am very proud of all of the projects I am involved in with Western Utility. I have the opportunity to learn something new every day, and contributing to these interesting projects is really amazing for me.
Now that we are done with the challenging year that was 2020, what are you most looking forward to in 2021 and beyond at Western Utility? 
Quite simply, I am looking forward to working the year ahead! This job has given me the opportunity to support and provide for my family and offer my children a great education. I am very thankful for that and look forward to working hard to afford them this chance.
Where do you live?
North Aurora, Illinois
Where did you go to school or get training? 
I did my training with 150 International Union Operators.
If you could address young college graduates or apprentices who are interested in a career with Western Utility or a similar company, what's the best advice you can give them? 
I would recommend that they always strive to do their best and maintain a positive mentality. But most importantly, they should always be tolerant.
Now, just to get a little personal! Tell us what you like to do in your free time.
I love to spend time with my family. I am also a big fan of outdoor activities, and one of my favorites is cooking outside when the weather's nice in the summer. 
We are so proud to have featured Jose to kick off this year's round of our Hylan Family blog series. It is clear to see that Jose is a dedicated member of our Hylan family. We thank Jose for his exemplary work ethic and dedication to the Hylan Family. See you next month when we will journey to Hylan Datacom and Electrical for our next spotlight!