It's time again for our favorite monthly segment – Get to Know Our Hylan Family! This month, we will visit New York and New Jersey to catch up with Al Vitalone, an Electrician and Foreman for Hylan Datacom and Electrical. Al's hard work, dedication and sense of humor make him a truly valuable asset to the Hylan team. Read below to learn more about his experiences and get to know him a little better.
Let's start off with learning more about what led you to your position at Hylan Datacom & Electrical (HDE)?
I got to where I am today at HDE by working very hard. The guys took a chance on me because they knew about my work ethic. Thank you to Sandy Duskin (RIP), Chris Lorenzo, a bunch of old supers, and the original Hylan crew. They all helped to mentor me and get me to where I am today. I'm very grateful for them.
What does your role as Electrician/Foreman entail at HDE?
I do a bunch of prep work at the sites, such as helping the guys in the crew set up, get materials, and read the blueprints. I also work onsite myself. I'm a hands-on guy. I do whatever is needed to get the job going and keep it going successfully.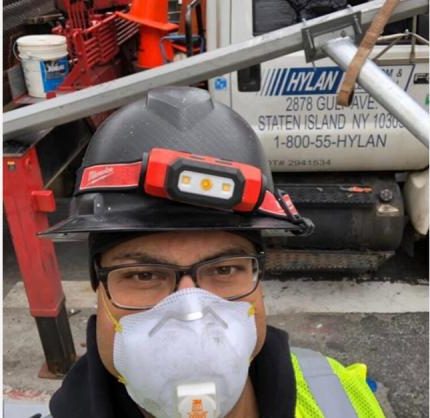 What do you most enjoy about working for HDE, and Hylan as a whole?
I like it because we're a nice little family. I really enjoy the guys I work with. They're all great people. The work is really interesting; we're building the infrastructure in and around New York City. It's cool to be a part of that!
I also love the emergency calls and all the high-pressure jobs. We worked after the last hurricane and were helping to restore power for many Staten Island residents. There was an 85-year-old man who came out of his house after he got his power back and thanked us for helping him. He bought me a hot dog as a thank you for working so hard. He made my day! It was a great feeling!
Any recent exciting projects at HDE that you can tell us about?
Right now, we're doing a davit pole job that's really great. I was also a foreman in the first Amazon building 2 to3 years ago, which was really exciting.
What are you most looking forward to in the future at HDE?
For my future, I'm planning to stay on as a foreman and do my part to help Hylan grow bigger and better than ever!
Where do you live?
I'm from Staten Island. I was born and raised there, and I still live there today.
Where did you go to school or get training?
I went to Tottenville High School. I got my job training from hands-on experience thanks to Hylan and IBEW Local 3.
If you could address young college graduates or apprentices who are interested in a career with HDE or a similar company, what's the best advice you can give them?
Work hard! Wake up, go to work, and don't let anybody stop you. Be a hard worker; people like hard workers.  You'll get far in your career if you show that you are proactive and dedicated. I would also stress to stay strong and be honest. Honesty is very important in this line of work.
Now, just to get a little personal! Tell us what you like to do in your free time.
I love to spend time with my family and hang out with my friends. The people who know me best know you can always find me at one of those 'old man bars' in Staten Island. Ha!
We'd like to thank Al for his time answering these questions and giving everybody the opportunity to get to know a little more about him. Al's dedication to Hylan is a big reason why we are so successful today – we would be nothing without our Hylan Family! Join us next month for another installment.