Welcome to the June edition of our Get to Know Our Hylan Family blog series. Today we are excited to introduce you to  Hylan West's Brian Smith. Brian is the Civil and Long Haul Division Manager for Hylan West. Keep reading to learn more about him and the important work he does for Hylan!
Hi Brian! Let's start off simple; what led you to your position at Hylan West?
I met with Slade Ottney (President) and decided to change career paths from owning a small company to managing at a large company four years ago. I was the managing partner of a horizontal boring company and "Hardcore Boring" from 2002 until I met with Slade in 2016. I then agreed to come over and manage a division for Tetra Tech, which went on to become Hylan West (in 2018). Today, Irun the company's Civil Division, performing larger diameter auger boring operations, larger fiber backbone builds, pipeline and wet utility work for water and sewer.
Please describe your role at the company.
I manage regional bids, civil projects involving water and sewer, along with larger horizontal boring operations. I manage a pretty diverse group of individuals; they're all the  "jack of all trades" type. We can do everything from pipeline work and Auger boring large diameter casing, to installing conduit on longer backbone infrastructure projects with the same teams.
What do you most enjoy about working for Hylan West?
There is more of a sense of stability and support you experience with a larger company; I quite enjoy that security. I also like being able to work through issues successfully with a great team.
Are there any recent projects at Hylan West that you can tell us about?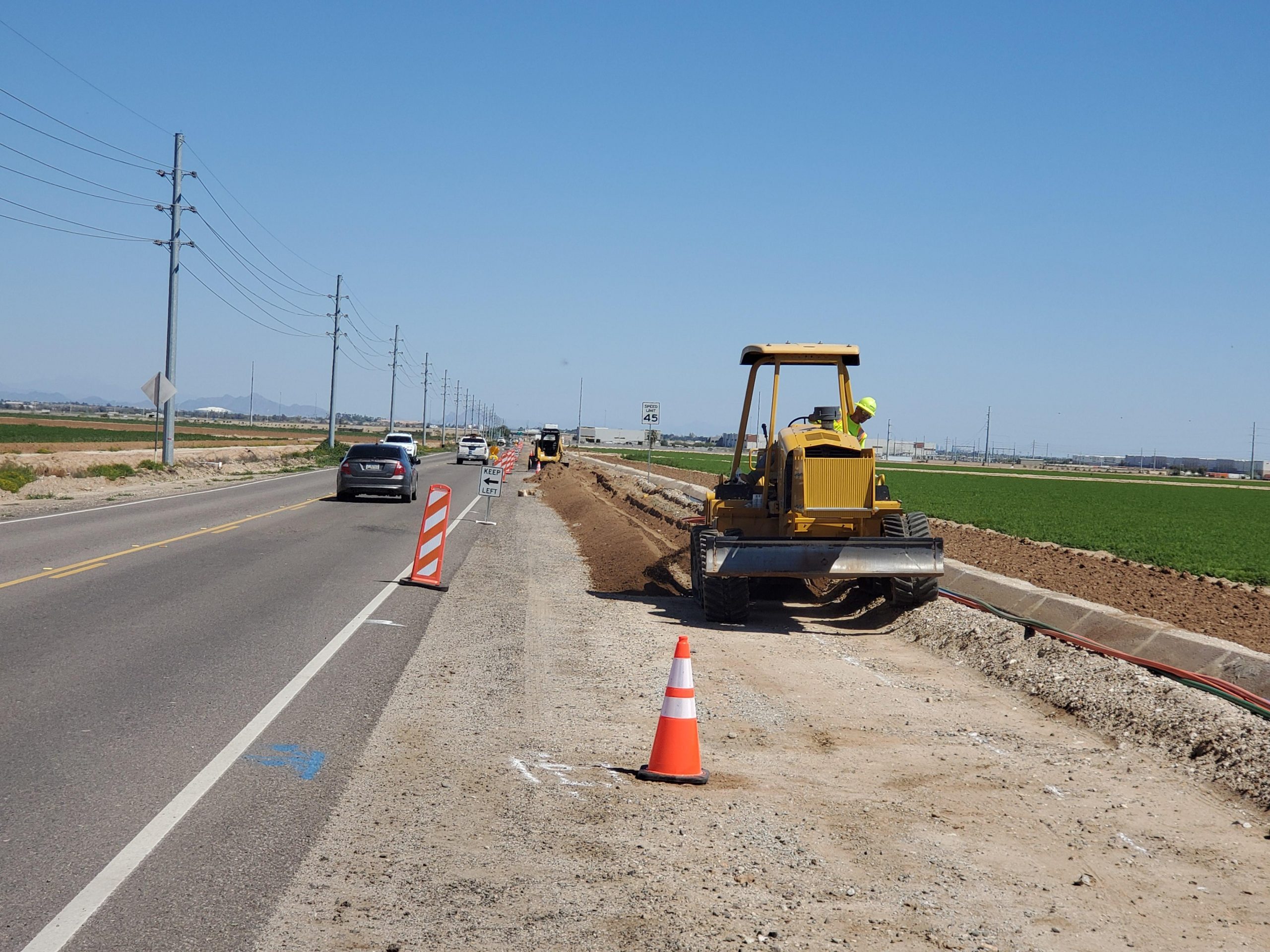 We installed a 300' 54" casing with 36" irrigation for the Riggs Road expansion in Queen Creek, Arizona and have installedover 10 miles of various water pipelines in the SanTan Valley.  We are working a couple of segments, installing fiber into some data centers for Zayo, approximately 26 miles of conduit in Goodyear and the cities west of Phoenix.
What are you most looking forward to in the future at Hylan West?
I look forward to the continued stability and a long term career not only for myself, but for my teams as well.
Where do you live?
I live in Queen Creek, Arizona in a home I built about 23 years ago on 2.5 acres of land. I recently bought a house in Young, Arizona on 2.3 acres, which is pretty remote in northern Arizona. I'm in the process of remodeling this house and I spend as much time as possible there. I use it as a summer home and would like to retire up there when I'm ready.
Where did you go to school or get training?
I graduated from Gilbert High School as a part of the class of 1986. Since then, the School of Hard Knocks has been my teacher. I learn every day, so it's safe to say that school is still in session!
If you could address young college graduates who are interested in a career in telecom, what's the best advice you can give them?
I don't know about just telecom, because I am more into all the aspects of Civil Construction, but my advice to the young people in college or just entering the workforce would be not to expect entitlements. I still think that the way to advance in any career you choose is to get in, be honest, and work hard. I like the "Cowboy Code" to serve as a guide to young people: "Ride Hard, Shoot Straight, Tell the Truth".
Now, just to get a little personal! Tell us what you like to do in your free time!
I have some bird dogs and some horses that I compete in dog trials with. I like to hunt and fish and  I enjoy spending time with my wife Sherri of 28 years. Time with my family is important to me, which includes spending time with my grandkids Tayden (age 2) and Adley (age 7). I'm also enjoying remodeling my second home.
At Hylan, our employees are the backbone of our business. We enjoy the opportunity to give a new employee a spotlight every month, so you can all see how special they are as well! Thank you for taking the time to learn more about Brian and Hylan West. We will see you next month as we take the time to speak with someone from our Down Under Construction division.
In the meantime, follow Hylan on Twitter and Linkedin to stay up to date with company news.