Welcome to Hylan's latest blog series, where we highlight members of our team and spend some time getting to know them, the important work they do and how they fit into our Hylan Family!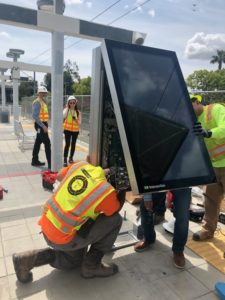 Today, we would like to introduce David Twyman, Senior Project Manager/ Program Manager for Hylan West, a Hylan Company that is a full-service, design-build contractor specializing in broadband, communications, intelligent transport systems (ITS), fiber optic network platforms and wireless solutions. Hylan West focuses on all outside plant construction activities including new technologies such as microtrenching, distributed antenna systems (DAS), tower construction and modifications. David started his career 15 years ago with Tetra Tech Utility Construction (which is now part of the Hylan Companies) right after graduating Utah Valley University.
At Hylan West, David is responsible for financial estimating and tracking for all projects. He is known as the "problem solver" on the job. With his exceptional organizational and collaboration skills, David keeps all teams on the same page and projects moving along in a timely fashion with improved efficiency. He calls Saratoga Springs, Utah, home, which is on the backside of Utah Lake. In his spare time, he enjoys working on projects around the house. David is also an avid basketball fan and loves rooting for his favorite team – the Utah Jazz.
Hylan West, formerly Tetra Tech Utility Construction (TUC) before Hylan acquired the company last year, performs fiber placement, ODAS and utility construction services across the Greater Phoenix area, Sacramento and Southern California. What has been your experience with Hylan West and Hylan becoming one?
The transition to Hylan was so smooth. I've noticed there is more collaboration across all the Hylan Companies now on a number of projects. It's more of a company-wide unified effort and we are leveraging each other's strengths and relationships. 
What do you enjoy most about working for Hylan West?
This might sound a bit nerdy, but my favorite part of working for Hylan West is being able to use my problem solving skills. I built a financial estimate sheet from scratch and have used it for 8 years. It is hands down the quickest and cleanest tool that is user-friendly and improves company operational efficiencies. I have developed tracking financial mechanisms that are very sophisticated but are relatable and applicable to crews on the job to keep the company moving forward.
Any recent exciting projects at Hylan West that you can tell us about?
We have a lot of exciting projects underway at Hylan West. Currently, we are working on 160 miles of fiber blowing in Colorado and Kansas. We also working steadily on a project in Los Angeles that places kiosks in LA for WiFi connectivity. In addition, our crews are working hard on the Utah Project, which includes adding 10,000 feet of a backbone augment for a major Tier 1 carrier.
Hylan West is expanding this year, including opening three new offices recently in Phoenix, AZ., Long Beach, Calif., and Sacramento, Calif., due to strong demand for fiber and utility construction services in these markets. How is Hylan West's rapid growth positively impacting these communities?
We have a lot of open positions to fill important roles on our telecommunications projects. Our growth is driving the growth of local communities. Also, I'm proud to see the enhanced connectivity for residents and businesses as a result of our work to build cell towers and increase bandwidth. 
What else is ahead for Hylan West in 2019?
We have plenty on our plate to keep us busy. The LA project, fiber blowing and backbone augmentation will carry us through the end of the year and beyond, but we are always ready for more. 
As a result of Hylan West's growth, more talented employees are needed to fill critical roles. Several full-time positions are available. For professionals seeking to enter the telecom and contracting industries, any special advice you can give to them?  
My advice is pretty straightforward and simple: Put in hard work, pay your dues and learn from mentors on the jobs. You'll definitely be rewarded in this industry if you commit and invest in yourself, your job and your company.
Interested in learning more about Hylan and its companies? Or working for us? Click here!
Don't forget to follow us on Twitter & LinkedIn for the latest news and continue checking our blog for more in our "Get to Know" series. Until next time…