This month in our Get to Know our Hylan Family blog series, we meet Project Manager Ausrine Pikelyte. Ausrine has been with Western Utility since February of this year, and has made a significant impression during that time. Keep on reading to get to know Ausrine a little bit better!
What led you to your position at Western Utility? 
I have always been interested in different types of construction and love learning new things. I feel that the opportunity to work for Western Utility presented itself when the time was right. Before, I was mostly involved with managing residential and commercial construction until about six years ago when I decided to broaden my horizons by branching out into civil construction.
How long have you worked there? 
Since February 2021.
What location for Western Utility do you work at? 
University Park, Illinois.
What does your role as a Project Manager entail at Western Utility?
I am responsible for effective management of all designated projects and their associated budgets and schedules. This includes coordinating all deliverables and requirements of the entire cross-functional project team. I also ensure that all projects are completed according to the underlying contract and mutually agreed timelines of the customer and the company. 
What do you most enjoy about working for Western Utility, and Hylan as a whole? 
I enjoy being a part of a team that makes a huge impact on the world around us. We help connect communities.  Western Utility has a fast-paced environment, but it gets balanced with a family-like atmosphere where everyone is ready to help. There is no day that's the same which makes it interesting.
What project and/or accomplishment are you most proud of with your work at Western Utility?
I am proud of every single one of them. Every project gives you an opportunity to learn. And no matter what the outcome is, there is always some room for improvement. I am especially proud of the projects where we managed to overcome unforeseen obstacles and succeeded in delivering quality work that adhered to the previously agreed upon timeframe and budget.
What are you most looking forward to for the rest of 2021 and beyond with Western Utility? 
I look forward to the continued growth of the company, expanding my knowledge, and further developing relationships with our customers.
Where do you live?
Joliet, Illinois
Where did you go to school and/or get training? 
I studied at Vilnius University in Lithuania and then at The Illinois Institute of Art-Chicago.
If you could address young college graduates or apprentices who are interested in a career with Western Utility or a similar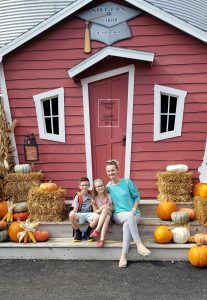 company, what's the best advice you can give them? 
Observe and learn from the best. Don't be afraid to challenge yourself and never stop learning new things.   
Now, just to get a little personal! Tell us what you like to do in your free time. 
When I am not at work, I can be found spending time with my family, exploring nature, painting on canvas or walls and designing and building furniture. I'm blessed with two children, a boy and a girl, who definitely keep me on my toes!
We'd like to thank Ausrine for her hard work and dedication to Hylan. Her work at Western Utility is what we always strive for – committed to excellence and with the customer in mind. We are grateful that we have talent like Ausrine's within our Hylan family. 
Of Ausrine's commendable performance within the company, her supervisor Matt Welton, had the following to say: "Ausrine has shown a lot of initiative and dedication throughout her time with Western. The Hylan mission clearly resonates with her, and it shows in her work. We are fortunate to have Ausrine on our team and we really look forward to seeing how she will continue to shine at Western Utility."
Thank you again to Ausrine for your participation! Join us next month as we continue our series with a new impressive Hylan Family member.