Happy New Year!  As we gear up for an amazing 2019, we'd like to take the time to reflect on 2018, and pause with gratitude for the incredible growth that Hylan experienced this past year.
Our biggest highlight was the successful completion of our acquisitions of several companies, including Arcturus Telecom, Down Under Construction, Hylan West (formerly a division of Tetra Tech) and Western Utility. These companies, along with Hylan Datacom & Electrical, are now all grouped under our new corporate brand: Hylan. This was a major move for our team, as the acquisitions of these companies allowed us to extend our reach and expand beyond our existing services.
With the strategic acquisitions came brand new websites launched under the Hylan Companies corporate brand, including Down Under Construction, Hylan Datacom & Electrical and Hylan West. Our customers and prospects  can now come to our new websites and learn about current initiatives, expanded service offerings and additions to our stellar management teams. The sleek looks are inviting and empower users to access to essential information about our various divisions.
To quote our CEO Robert DiLeo, as featured in the December 2018 issue of the New York Real Estate Journal, "These acquisitions expand upon our existing services and bring new talent to an already exceptional team. It's certainly been a learning experience to lead a company through these naturally difficult transitions, but these were important steps to take to grow our brand and reach into other markets across the U.S., in order to provide the best customer service and solutions to our valued clients – both old and new."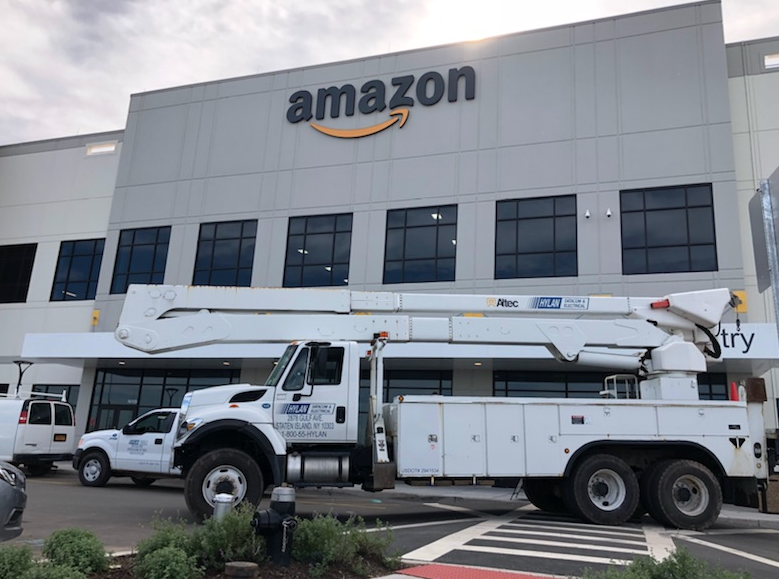 And even though 2018 kept us  busy with many acquisitions, our projects carried on seamlessly throughout the year. ! During one of our  busiest years yet, it's hard to pick just one of our most notable projects, but we can certainly tell you what comes to mind first: Hylan Datacom & Electrical's completion of the Staten Island Amazon Fulfillment Center. According to DiLeo, "[This] was a very big project for us, as we built and installed the entire electrical system in less than 12 months. Amazon's Staten Island center is massive and occupies 2.4 million s/f. Hylan was responsible for installing the electrical system which included over 5,000 lights, and the building and supplying of all the electrical switchgear. It was an exciting project for a high-profile client, in the heart of where Hylan was founded over 50 years ago. So that I would have to say is a project that I'm quite proud of from this year."
Hylan continues to be blessed with hardworking and valuable employees, who make projects like the Staten Island Amazon Fulfillment Center quite flawless.
With Hylan's completed acquisitions came exciting geographic expansions for us throughout the U.S. To date, Hylan now serves a wide variety of end-markets across the country, with offices and facilities in New York, New Jersey, Arizona, California, Illinois, Maryland, New Mexico, Pennsylvania, Texas, Utah and Virginia.  With these expansions came new talent, and we are proud to say that our employee headcount has increased remarkably.



With such a spectacular year behind us we now look forward to an even more successful 2019 for Hylan. There are many exciting developments on the horizon as we lead the way in the industry and focus on acquiring new talent through the introduction of strategic partnerships and apprenticeship programs. We also are excited to announce the grand opening of Hylan Datacom & Electrical's new training facility in Long Island City. The Sanford Duskin Memorial Training Center is named in honor of the beloved Sanford Duskin, a deceased Hylan team member. The facility occupies 38,000 square feet of land, with 1,000 square feet of training space in a 14,000 square foot building. Further announcements regarding the Sanford Duskin Memorial Training Center, including our grand opening event, will be released very soon.
Hylan is also continuously chasing new technologies, with our dedication to 5G initiatives and small cell deployments nationwide. Together with our customers and partners, we look forward to making cities across the U.S. "smart".
Hylan will also be present at a number of key industry events, kicking off the year in Miami at Metro Connect USA, where members of our executive team will be present for onsite meetings in our premium branded space. For more information on meeting with Hylan at Metro Connect, please email jsa_hylan@jsa.net. Stay tuned for a list of our other upcoming events for 2019!
Be sure to follow us on Twitter and LinkedIn so you're up-to-date on all things Hylan. Cheers to 2019 – we can't wait to share our ongoing progress and achievements with you.