Today, Hylan spans 10 states and maintains a portfolio of multiple brands, but we actually started as a small family company in Staten Island. In 1960, John DiLeo (father of current Hylan CEO and President, Robert DiLeo and John DiLeo, Jr.) founded the company as family-owned commercial electrical contractor. After achieving our status as an IBEW Local 3 contractor in the early 1970s we gained considerable momentum throughout the Greater New York City area.
In the mid-1980's, Hylan took on a project that would fundamentally expand our scope forever. We completed a major wireline installation for a leading cable operator, propelling it into the telecommuting sector. And after that, Hylan's relationship with the telecommunications space only got deeper as it approached the 1990's, completing several fiber optic installations on behalf of major network operators. In 2007, we constructed its first DAS system, ushering us into the wireless business. Today, Hylan works with major mobile operators to transform prevailing wireless infrastructure to meet next-generation 5G standards.
While cultivating its telecom acumen through the decades, Hylan concurrently completed take on major construction, engineering, and electrical projects outside of the communications space. For example, the early 2000s, the company received its first municipal contract for street light maintenance in Brooklyn and Manhattan. A few years later, Hylan completed our first municipal job with a major municipal contractor on the Staten Island Expressway.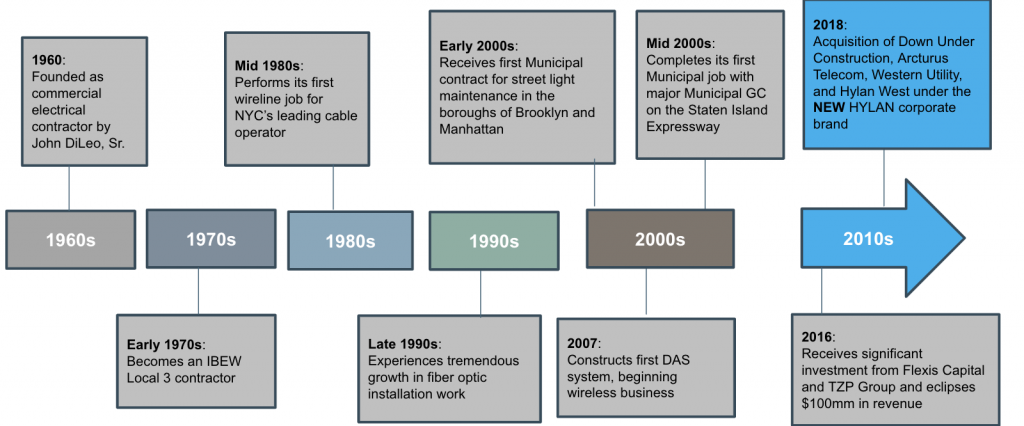 In 2016, after surpassing $100 million in annual revenue, we decided to take it to the next level and engaged Flexis Capital and TZP Group for a strategic investment that funded a slew of acquisitions and the development of new facilities in Philadelphia and Baltimore. In February 2018, we acquired up Arcturus Telecom to expand our outside plant design and engineering capabilities. One month later, Hylan picked up Down Under Construction to enter the mid-Atlantic market. Subsequently, the company picked up Western Utility to enter the Chicago market and Tetra Tech Utility, with capabilities in Arizona and California, which was rebranded as Hylan West. Following this massive expansion, Hylan debuted a new corporate brand, Hylan Companies, which is parent to Hylan Datacom & Electrical, Hylan West, Arcturus Telecom, Down Under Construction, and Western Utility.
DiLeo sought to develop a family company that nurtures talent over the long-term in order to deliver a superior customer-centric engineering solution. Through decades of aggressive growth and expansions across 10 states (New York, New Jersey, Arizona, California, Illinois, Maryland, Pennsylvania, Texas, Utah, and Virginia), Hylan never lost sight of our guiding principles. With a seasoned management team and an incredibly well-trained and experienced workforce, Hylan provides full service communications and electrical infrastructure design, engineering, construction, maintenance, and emergency and disaster recovery services under the most rapid timelines, with the utmost efficiency and quality. Hylan is built to scale and offers the same customer-centric strategic "cradle to grave" solution for clients and projects of any size.
Over the past few years, Hylan focused on expanding our national reach, but we haven't forgotten our New York roots.  Last month, Hylan Datacom and Electrical opened a new facility in Long Island City to enhance its ability to deliver turnkey communications and electrical infrastructure design – as well as engineering and construction services for wireline, wireless and smart city municipal service operators.
If you happen to be in New York, Chicago, Phoenix, LA – well, you get the idea –  be on the lookout for our Hylan teams working to expand and transform local communications infrastructure, climbing out of manholes or up utility poles, along streets and bridges, or inside hospitals and stadiums. We pride ourselves on improving our communities.