A lot has changed since Hylan started out over 60 years ago in New York City, and it's fair to say that 2021 was no exception. The past year presented many opportunities for growth and shone a bright light on innovation, adaptation and the impact of relationships – with our customers, as well as within our own Hylan family.
We hit the ground running in 2021, making several new hires for Hylan across all of its divisions, including industry veteran Leon Markham as Vice President of Business Development – West. Shortly after his start at Hylan, Leon was promoted to President of Hylan West. Leon's hands-on experience in the field, combined with his extensive engineering experience and product knowledge have been invaluable to Hylan in driving new revenue opportunities in the western US region. 
Throughout the years, the Hylan team has cultivated strong relationships with our customers, which resulted in several important and rewarding projects for our team and partners in 2021. One such case is when the Dark Fiber and Infrastructure (DF&I) team selected our Down Under Construction (DUC) division as its partner to build a 100 percent underground direct fiber route between Ashburn and Manassas, Va. This important build created diversity and scalability in this region, and was a direct emanation of DUC's more than 20-year performance-based relationship with the DF&I team.
Due to the pandemic, 2020 was crippling for in-person trade shows and exhibitions. Although we were still faced with changes and challenges in 2021, we were grateful to connect, once again, with industry professionals. Whether it was virtual, live, or a hybrid of the two, events such as the Channel Partners Conference and International Telecoms Week brought back a semblance of normalcy and the opportunity to engage in the themes most vital to our industry, such as sustainability and the evolution of connectivity services for the next generation. 
Another way our team stays in touch with industry professionals is through our highly anticipated annual golf tournament, and our 2021 event (3rd annual!) was one of our best to date! The tournament and customer appreciation event is a fun and productive way for us to thank our customers and provide industry leaders a platform to network with the people they most want to connect with. This year, the event raised $25,000 to support Headstrong, an organization that provides cost-free mental health care to military veterans and their families.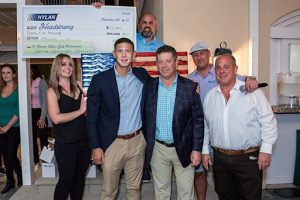 Another accolade we are proud of in 2021 is our launch of Hylan Academy. We launched Hylan Academy to ensure that our Hylan family is supported in the field and that new trainees have the tools they require to succeed. This training program is focused on familiarizing new employees with the complex utility builds for which we at Hylan are known. It also provides cross-training and career roadmaps for current employees. The Hylan Academy's hands-on mobile technologies learning center set out from Des Moines, Iowa in June and has taken the program to industry professionals across the country. Not only has the academy invigorated our workforce with new talent, but it has also reinforced our mission: building careers for our people.
As a further example of Hylan's dedication to training, our Western Utility division was recognized early in the year for its outstanding leadership by hosting almost 2,500 hours training with almost 350 hours of training focused on underground damage prevention in 2020. Additionally, Western Utility led the excavator community in the City of Chicago with only eight damages per one thousand qualified dig tickets throughout the entire calendar year.
Although 2021 held many positives for the company, the Hylan family experienced two devastating losses this year with the passing of Bert Martin and Jorge Vasquez, both valued Hylan team members. We honor the memory of both Bert and Jorge and will never forget their friendship and dedication to Hylan. 
A look back at 2021 evokes thoughts of opportunity and innovation. And although our company has grown in many ways, our commitment to our customers remains the same. Hylan stands ready to provide large and small customers with comprehensive solutions from conception to completion. Our team is well positioned to provide best in class service to our customers, delivering the highest level of quality, innovation and accountability.
So, what's in store for 2022? Be sure to check our website for updates and LinkedIn for our latest news!