Hylan Datacom & Electrical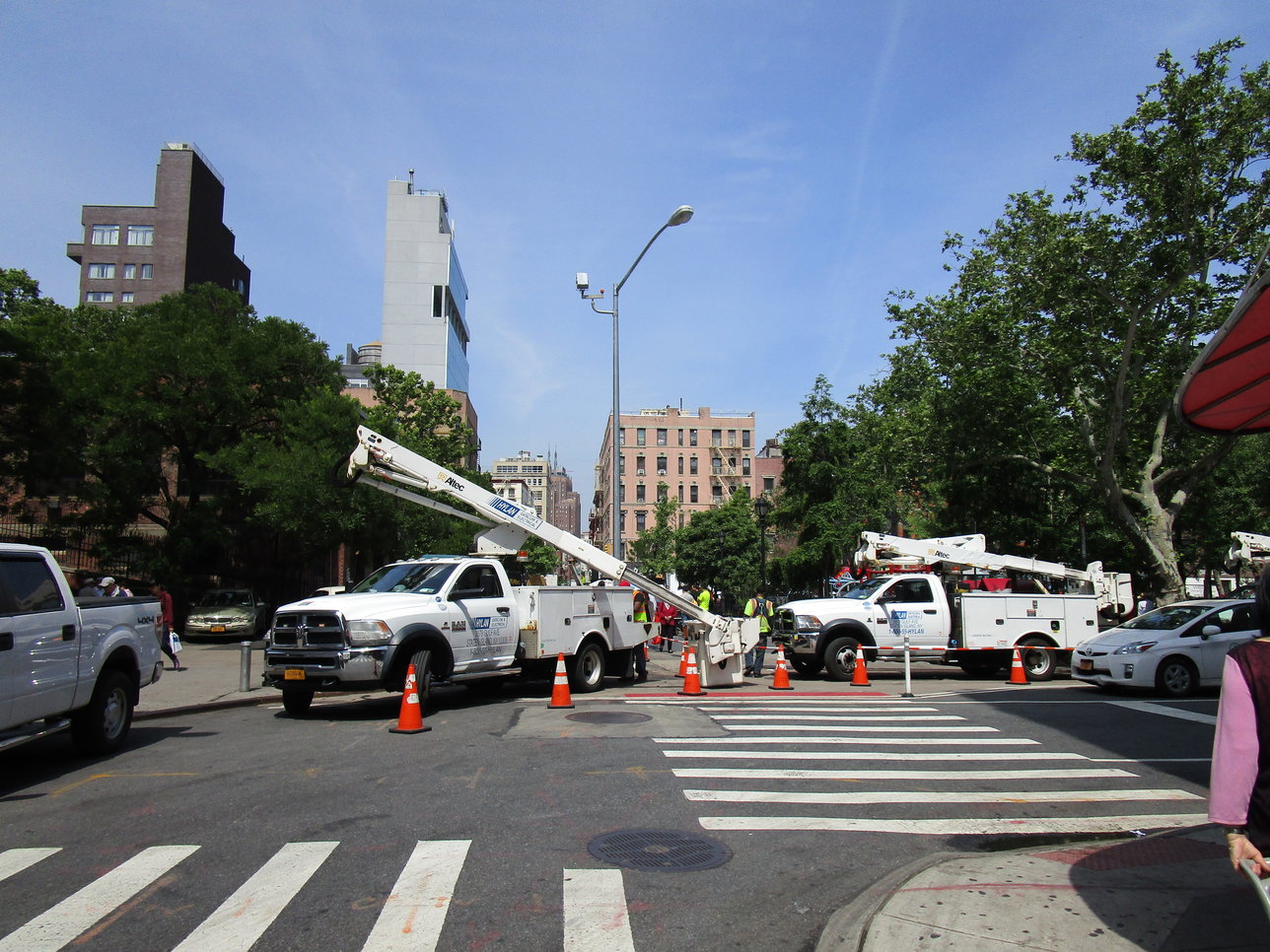 Hylan Datacom & Electrical, a Hylan Company, offers an extensive range of services across DataCom, Electrical Contracting, Lighting and Electrical Maintenance, Utility, DAS and Electrical Construction, and Emergency/Disaster Recovery. We perform installation, maintenance, and emergency services for public and private projects of all sizes. We pride ourselves on our experience in various fields, from street and roadway work to sophisticated operations in commercial, industrial, and governmental buildings.
At Hylan Datacom & Electrical, we cater to a diverse customer base with services that range from fiber optic cabling and wireless networks to building control systems. As your most trusted contractor in the Northeast and Mid-Atlantic regions, we provide custom solutions to fit your requirements. While many of our services are listed below, we are open to discussing your specific needs to help identify the best match for your situation.
Datacom/Telecom
We offer extensive services from rodding, roping, and innerduct placement in existing conduit systems, to the placement and splicing of millions of feet of fiber optic cable. We specialize in air-assisted cable placing, state-of-the-art fiber optic testing, and complex wireless tower electrical and site grounding for various networks. Our central office facility work meets the rigorous standards of leading providers like Verizon and AT&T, underlining our commitment to continuous training and quality.
DAS and Small Cell
We excel in the construction of Distributed Antenna Systems (DAS) and small cell installations, offering full indoor and outdoor solutions for reliable, fast network connections. Our small cell services, in particular, are instrumental in enhancing network coverage and performance in both urban and remote areas, making us a sought-after partner for communities, municipalities, and various high-capacity venues.
Utility Construction
We prides ourselves on our wide range of utility construction services, including underground conduit construction, manhole installation, aerial construction, power supply construction, Coax/plant rebuilds and upgrades, and directional boring. With a well-maintained fleet of equipment and a trained team, we assure on-time project completion, accommodating custom requirements and site conditions, while offering full in-house service to cable TV companies and supporting all phases of FCC certification.
Electrical Construction
We offer extensive electrical construction solutions including commercial/industrial projects, fire alarm systems, DC power plants, switch facilities, Intelligent Transportation Systems, along with AV, security and CCTV systems, and network infrastructure, demonstrating a steadfast commitment to quality, innovation, and customer satisfaction.
Electrical Maintenance
We expertly maintain comprehensive electrical systems, voice and data circuitry, and signage for major national retail organizations, while also offering swift emergency and disaster recovery solutions. Our suite of network design engineering services range from initial survey and design to permitting and post-construction documentation, ensuring an efficient path to project completion and minimized network downtime.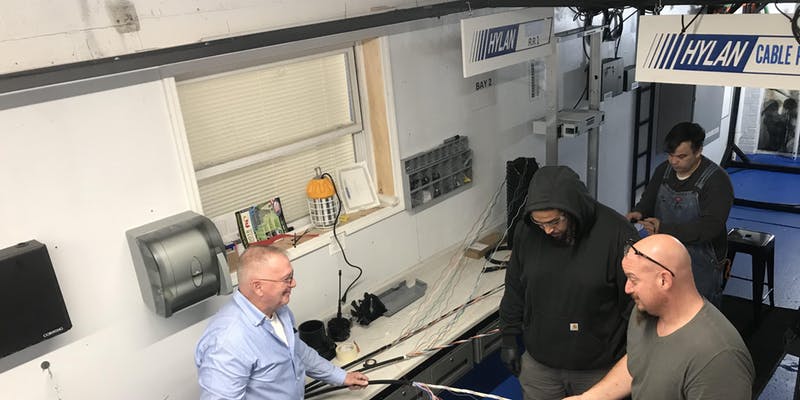 Sanford Duskin Memorial Training Center
The Sanford Duskin Memorial Training Center is Hylan's 14,000 square foot state-of-the-art training facility located in Long Island City, NY.
The facility occupies 38,000 square feet of land, with 1,000 square feet of training space in a 14,000 square foot building.
Our Hylan team is expertly trained in fiber splicing and testing, small cell installation, and testing and safety training.
JOHN S. DILEO, JR
Vice Chairman & President
Mr. John S. DiLeo Jr. worked side by side with his father, Mr. John S. DiLeo Sr., for over 20 years, learning the business hands-on. In his role as Vice Chairman & President, he carries on the strong client service orientation and stringent quality standards, which are the family tradition. DiLeo oversees HYLAN's day-to-day business operations, directly influencing how company resources are allocated to deliver growth and profitability to the business. Along with the rest of the senior management team, DiLeo reviews daily project reports and production sheets, actively monitoring the progress and status of all jobs. He is actively engaged with customers and employees, and his primary objective is to help ensure quality of work and customer satisfaction.
Mr. DiLeo graduated from St. John's University in 1983. Over the course of his career, he has served in executive leadership roles, gaining comprehensive experience overseeing complex operations and guiding strategic direction for multiple well-established organizations. He presently serves as a board member for the Staten Island Economic Development Corporation (SIEDC) and the National Utility Contractors Association of New Jersey (NUCA). He is also a member of the Columbus Citizens Foundation in New York City and the New York Electrical Contractors Association. Additionally, DiLeo is a successful restauranteur and avid sports fan, with a life-long allegiance to the New York Jets.
CARMINE MANNA
Chief Operating Officer
Mr. Carmine Manna has 35 years of management experience. He has managed internationally known sports and convention facilities, such as Madison Square Garden and the Jacob K. Javits Convention Center in New York City. While at these facilities, he was responsible for directing major construction and renovation projects. He prides himself as being a customer-driven manager who works hard to provide courteous, quality, and professional workmanship to all his clients. Mr. Manna's customer relation skills are an asset to HYLAN. Mr. Manna is a graduate of St. John's University.
JOSEPH ROMANO
Regional Vice President of Operations
Mr. Joseph Romano has over 25 years in the Electrical Industry. As a member of IBEW Local #3, he has served as a General Superintendent, Senior Project manager and a Project Executive. He specializes in heavy construction, highway/public works and infrastructure work. Some of his past projects include; Harlem River Lift Bridge, Hudson Yards MOE/Platform Rail Yard and numerous other large scale projects throughout New York City and the 5 Borough's. He brings an aggressive work ethic to HYLAN and strives on a hands-on project management system from start to finish. He believes that a team effort helps drive a project to complete success. His field experience as a Journeyman electrician has helped him build a career that helps with every aspect of the industry.
DANIEL WILLIAMS
Vice President - Project Management
Mr. Williams has over 30 years experience in the communications industry. He is a seasoned veteran, spending the last 20 years as Project Manager on all phases of datacom / telecommunications construction. His knowledge and proven capabilities with projects include pre-planning, cost engineering, vendor pricing and selection, as well as hiring and maintaining personnel and project scheduling. Mr. Williams' outstanding leadership skills have helped him become one of the industry's best and have given him the opportunity to work in twenty U.S. States and six foreign countries.
JOHN GAMBINO
Director - Underground
Mr. John Gambino has served 22 years in the underground utility industry & started at the age of 18. Starting as LIUNA laborer John began his career specializing in underground utilities while working alongside his father who was a long time laborer and laborer foreman; an honor John cherishes today having learned just as much about work ethic and accountability as he did about utility work. Working as a laborer taught him what was needed to complete the day to day activities hands on. Learning how to get a 3D visual of the Code 53 Mark outs ( of Gas , Electric , Steam & Communications ) beneath the surface and choosing prospective routes of new installation took him to his next level as a Foreman. As a Foreman he ran a 4-7 man crew constructing new installation of underground utilities , one most notable location was Columbus Circle Utility Relocation. Communicating with the utility lower & senior management on daily basis & learning the specs for each utility brought him to supervising 3 Crews on a daily basis & making him the 1st utility relocation Super in the 21st century to start the 2nd Ave Subway Project. Relocating all major utilities on 2nd Ave from 96th St to 81st Street. His knowledge in the industry saved several months by design building most of the project. In the years to come he had learned to estimate costs and analyze each specialty project. Today He has achieved directing over 75 men, managing multiple facilities & equipment throughout NYC , NJ & PA.
MATTHEW CHRISTIE
Senior Project Manager
Mr. Matthew Christie is a 1997 graduate of SUNY Oswego with a Bachelor of Science in Communications. He has 23 years of experience in the wireless and telecom industry, starting his career with HYLAN Datacom & Electrical in 1997. As Director of Telecom Field Operations, he is experienced in turnkey construction, RF, various technology upgrades and indoor/outdoor DAS.
Hylan is happy to discuss new projects and partnerships.