At Hylan, we are actively working with leaders in the telecommunications sector to meet the ambitious goal to have 5G wireless services available for consumers by 2020. This requires major upgrades to wireless infrastructure across the country in a highly granular fashion. And while the network providers may come up with overarching business plans for 5G rollout, we are the ones who determine what technology is required, how it's deployed, and act as the boots-on-the-ground that actually upgrades the physical infrastructure that surrounds us all.
In late June, Hylan seized the opportunity to transform a 5G upgrade we conducted on behalf of a major financial institution into an educational demonstration.
For this project, Hylan enhanced a wireless connectivity node to enable the quality-of-service that meets the requirements of 5G service delivery. We were happy to have ten research analysts and investors from the bank experience the install and learn about the technology that will make up the fabric of their 5G network.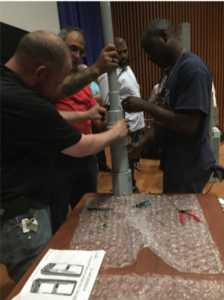 Also last month, Hylan demonstrated a 5G upgrade for a leading United States carrier. Hylan's General Forman Mike Puglia guided our guests through the demonstration, by providing an informative on-site class. Puglia explained the technology's role in the network and outlined how Hylan integrates it into the prevailing infrastructure.
Our goal at Hylan isn't only to drive wireless transformation, but also share our subject matter expertise on the technology and the implementation of that technology. This is the space we thrive in, and we look forward to continuing to enrich the entire business ecosystem that propels telecommunications innovation.
Interested in learning more our subject matter expertise and service offerings?
Contact us today!