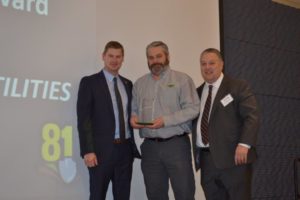 We are excited to announce that Western Utility, a Hylan Company, and construction leader throughout the Midwest providing telecom, electric, pipeline, water and sewer construction and maintenance services, has been named "Excavator Contractor of the Year for 2018" by the Greater Chicago Damage Prevention Council.
"It is through many days of diligent hard work, hours of training and a dedication to always doing the right thing that our team was able to achieve this. I could not be more proud of the guys we put in the field every day," stated Tim Hayes, President of Western Utility.
The award was presented to Western Utility on March 12 at the 21st Annual Excavator Breakfast, held at the University of Illinois at Chicago (UIC). Frank Bedtke, President of the Greater Chicago Damage Prevention Council, presented the award, stating, "Western Utility had thousands of dig tickets in the City of Chicago last year and only one damage. That is amazing by anybody's standard. I am truly proud to present this award to Western Utility."
For more information on Western Utility, visit http://westernutility.com and follow on LinkedIn.