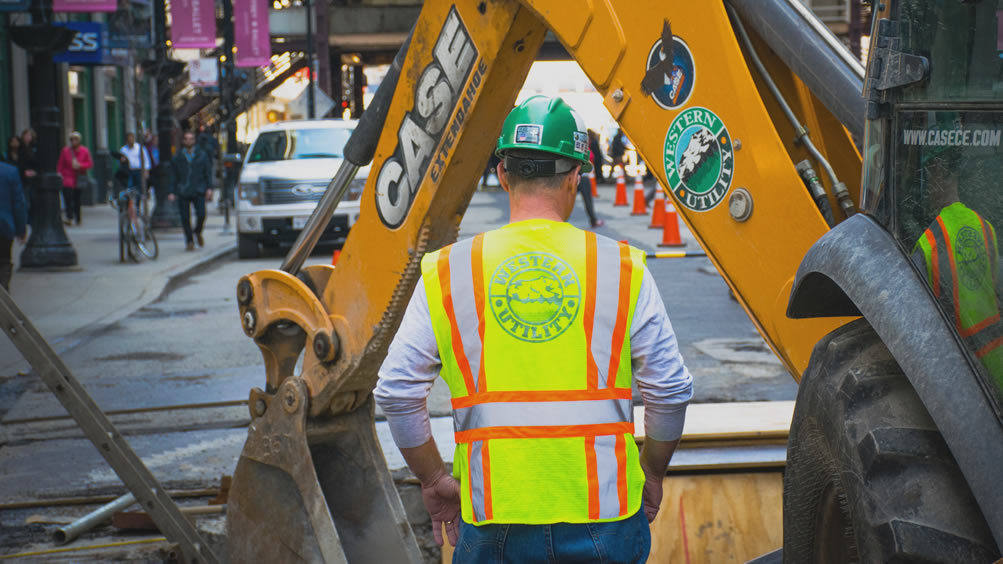 Western Utility, another proficient subsidiary of the Hylan Company, is recognized as a construction leader in the Midwest, offering a plethora of services in telecom, electric, pipeline, water, and sewer construction, and maintenance. Headquartered in the south suburbs of Chicago and having a presence throughout Illinois, we serve our clients through a dedicated team of more than 200 well-trained and dedicated employees. Our commitment to safety, timeliness, and excellent customer service is the cornerstone of our successful operations, ensuring we continuously meet and exceed client expectations.
Western Utility, renowned for its construction expertise, offers a wide range of services, from directional boring, open cut trenching, hydro excavation to aerial systems services. Our commitment to going above and beyond for our clients is evident in our 24/7 emergency response services.
With our well-rounded offerings, Western Utility is your go-to provider for all construction needs, committed to building your future… today!
Directional Boring
This "no dig" technology is used to install underground piping and conduit, eliminating the need for surface excavation. We have the necessary equipment and experienced teams for the job.
Open Cut Trenching
Depending on the project, open cut trenching might be more suitable. We offer this service safely and efficiently, providing solutions best suited to your project's scope.
Hydro Excavation
A modern alternative to traditional trench digging, hydro excavation is a safe, efficient, and versatile way to install underground piping.
Aerial Systems
We are a market leader in the installation and maintenance of aerial systems, capable of effectively responding to 24/7 emergency requests.
ROB SCHAFFER
Executive Vice President & General Manager
Rob has over 20 years in the construction industry, beginning as a steel erector and eventually transitioning to management. Rob graduated from the University of Illinoi with a BS in Civil Engineering in 2006 and has since become a registered Professional Engineer. Rob's experience ranges widely; from large supportive excavations, large underground concrete drainage structures, mass excavations, drill & shoot tunnels, sewer & water main construction, large and small scale turnkey fiber optic network builds, and emergency response and restoration. Previously, Rob managed a branch office in central Illinois overseeing all aspects of operations. Rob serves current telecom and civil clients while developing new clients in other market sectors. Additionally, Rob mentor's junior managers in an effort to grow and expand our talent pool.
RYAN BOLLENBACHER
Vice President - Project Management
Ryan Bollenbacher has over 15 years in the construction industry.  Ryan graduated from Purdue University with a BS in Construction Engineering and Management in 2006 and is a Registered Professional Engineer in Illinois. Ryan's experience ranges widely and includes heavy highway roadwork, energy generation, large- and small-scale turnkey fiber optic network builds, and emergency response and restoration.  Ryan's primary role is estimating responsibilities for Western Utility along with Project Management.  Ryan has passion for the construction business and enjoys working with our clients, creating time and cost saving measures to better serve them. In his free time, he enjoys being outdoors, grilling, and fishing.
SKI VERDUN
Vice President - Operations
Ski Verdun has over 25 years of expertise in the telecommunications industry within the Chicago area. He's an Illinois State University alum with a B.S. in Occupational Safety and Industrial Technology. His expertise is in diverse areas, including navigating the intricacies of the City of Chicago permitting process, managing projects within the Chicago freight tunnels, and overseeing Underground construction in the City of Chicago. In Ski's spare time, he enjoys fishing, hunting, camping, and is very active in working with Ducks Unlimited to preserve and protect wetlands.
Hylan is happy to discuss new projects and partnerships.